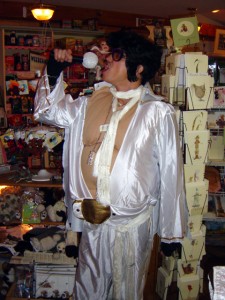 Halloween at the Store!
"Halloween came, with swarms of costumed kids and their parents visiting the Store for Trick or Treat, cider and donuts on the porch. Lots of photos. Cute babies. Giggling children. "  from My Life at the Marshfield Hills General Store, a collection of short stories by Sherry Campbell Bechtold

Halloween was always a pretty big deal in our neighborhood….because it WAS a neighborhood.  Our first year in the Hils, we decorated, stocked up with bowls full of goodies and ran out of candy by sunset. Bob had to scurry over to CVS in Scituate for reinforcement.  Lesson learned, over the years, we prepared mightily for the event – particularly as younger families moved in.
Back then, I was so preoccupied with career and commuting, most of the folks who showed up at our door were almost complete strangers…even the famous ones that I may have recognized if they hadn't been in cognito.  Steven Tyler, his wife Theresa and the two kids were regulars from Day One. Much later, when we owned the Store and hosted Trick or Treat there, the Talarico (Steven's actual name) family was always a big hit.  The last year that I remember them showing up together, he walked in the door dressed as Elvis.  I said "Wow, you're dressed as MY rock 'n roll idol!"  And, Theresa, right behind him replied "Mine too."  I don't think he heard that.  Or maybe he did and just chose to ignore.
The Store Halloweens were the best.  I always played "War of the Worlds" on the CD player, dimmed the lights, opened the front door, set out the refreshments and candy in big bowls so the kids could make their own choices.  Patty dressed up as a witch. She had the most believable cackle!  Made my flesh crawl.  EVERYONE stopped in – sometimes to get warm and always to visit, laugh, take photos.  Did I mention it was wonderful?  It was.  Think I miss it all?  I do.
  Listen to the 1938 Broadcast of WAR OF THE WORLDS: